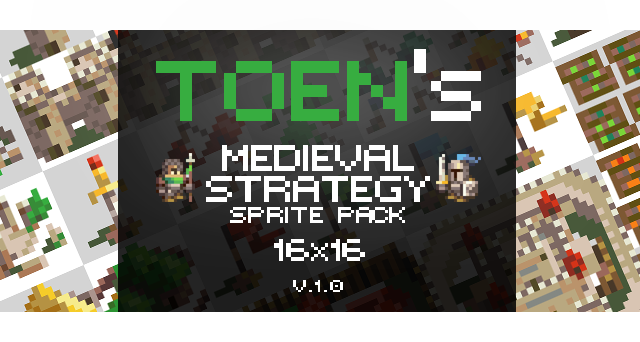 Toen's Medieval Strategy v.1.0 - 16x16 Sprite Pack
A downloadable asset pack for Windows, macOS, Linux, and Android
Toen's Medieval Strategy v.1.0
This is a free graphic pack set in a medieval style for a turn-based strategy game or an RPG, inspired by the gameplay of the title "Advance Wars" for Gameboy Advance.
It includes up to 308 graphics sorted into a tileset (each grid measuring 16x16 pixels) and includes a reference image for easier use.

Features!
Terrain sprites
Buildings: Towers, towns, castles, houses, abandoned ruins and more
Roads, rivers and bridges
Sea sprites
Villages, soldiers and siege weapons
Animated effects
Useful GUI info sprites
Many more!
You can help me to extend this pack with extra content or to create more free assets just like this one subscribing to my Patreon or paying the amount you want when downloading the pack <3
---
You can use or modify these sprites for any purpose (commercial or noncommercial) provided the source is properly credited as instructed on the "License and attribution info.txt" included in the pack.
---

This work by Andre Mari Coppola is licensed under a Creative Commons Atribution 4.0 International license.
You must give credit to the author, and provide links to the sources.

Download
Click download now to get access to the following files:
Toen's Medieval Strategy Sprite Pack v.1.0 (16x16).zip
447 kB